HONDA S2000 TODA RACING F20C (S2000) SPORTS INJECTION KIT
Description
For sale NEW Toda Racing F20C (S2000) Sports Injection KIT Please specify part number after purchase An individual throttle for… read more
Price

2 599.00£

0 reviews
NEW
Description
For sale NEW Toda Racing F20C (S2000) Sports Injection KIT
Please specify part number after purchase
An individual throttle for each cylinder. Gives super response, and improvements through out the rev range to both power and torque.


*The standard trumpet length is 88mm
F20C (S2000) Sports Injection KIT


Throttle valve size: Ø50mm
Engine Type
F20C
Part No.
17100-F20-203
17100-F20-206
17100-F20-208
Throttle valve size

ø50mm

Trumpet
33mm
63mm
88mm
*Delivery pipe designed to be used with standard F20C/AP1 injector nozzle size.
*Please ask for the use for AP2 in advance.
*Injectors are not included.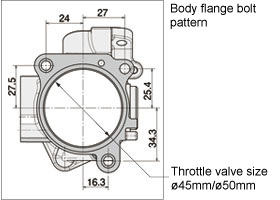 *TODA throttle body is based on the TOYOTA AE101 manifold bolt pattern.
---
Reviews (0)
There are no reviews yet.
Related Products